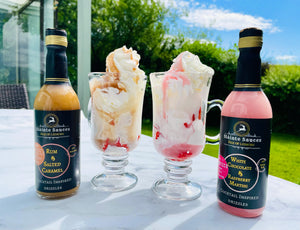 Slàinte Sauces ('slan-cha' a Scottish toast)
Scottish award winning sauces pour like syrup deliciously tipsy sure to 'bring the celebration to your table'.
Perfect for dinner parties, barbecues, picnics and make fabulous gifts for the foodie cocktail lovers in your life.
Created and launched on the Isle of Lismore, now made in their own production unit in Oban.
Each sauce has nearly TWO measures of alcohol - definitely an adult only pleasure with a burst of colour and mouth watering flavours you can dip drizzle, and decorate over your favourite savoury and sweet foods.
We encourage you to 'plate like a chef' and share your creations on Instagram #slaintesauces